Access
Address and phone numbers
Address:

8-1-3 Seikadai, Seika-cho, Soraku-gun, Kyoto 619-0287 JAPAN

Phone:

0774-98-1200 (automated voice information service)
Follow the automated voice guide and select the desired number.
Map of the area around the library
Transportation guide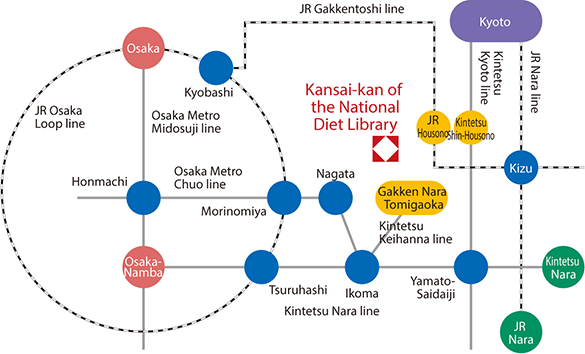 From Kyoto station to Shin-Hosono station, the Kintetsu Kyoto line exress train takes about 30 minutes.
From Kintetsu Namba station to Gakken-Nara-Tomigaoka station, It takes about 40 minutes by the Kintetsu Nara line express train (by way of the Ikoma station).
From Kyobashi station to Hosono station, the JR Gakkentoshi line rapid train takes about 45 minutes.
From the nearest station
Nearest station
Bus route
Bus stop
Time
required
Hosono Station, JR Gakkentoshi Line / Shin-Hosono Station, Kintetsu-Kyoto Line

Nara Kotsu Bus 36 bound for "Hosono-eki" Hikaridai loop line
Nara Kotsu Bus 46 bound for "Hikaridai-3-chome"
Nara Kotsu Bus 47 bound for "ATR"
Nara Kotsu Bus 56 or 59・58 bound for "Gakken-Nara-Tomigaoka Station"

Kokuritsu Kokkai Toshokan
Approx. 10 minutes
Seika Kururin Bus
Apita / Konan-mae
Approx. 15 minutes
Gakken-Nara-Tomigaoka Station, Kintetsu-Keihanna Line
Nara Kotsu Bus 56 or 59 bound for "Hosono Station"
Kokuritsu Kokkai Toshokan
Approx. 15 minutes
There is free parking space for about 200 cars, and also for motorcycles and bicycles.
You can utilize it from 9:30 a.m. to 6:00 p.m.
From Kyoto
Kyoto -> Joyo I.C. (Keinawa Expressway) -> Seika Gakken I.C. -> Seika main street to the west
From Osaka
National Road No. 163 -> Prefectural Road No. 52 (Nara-Seika Line) to the north
From Nara
National Road No. 24 -> National Road No. 163 -> Prefectural Road No. 52 (Nara-Seika Line) to the north